(AIRE)
Antonio Cobo Arévalo
Realizaciones vinculadas al proyecto presentado a la convocatoria de becas de la Real Academia Española en Roma AECID
SELECCIÓN:
HandsThinking UEM
year: 2016 location: madrid, spain type: workshop size: 12 m2 university: escuela de arquitectura de la universidad europea de madrid UEM team: antonio cobo (tutor) and the students of the school of architecture.
Installation designed with occasion of the HandsThinking Festival 2016, Universidad Europea de Madrid.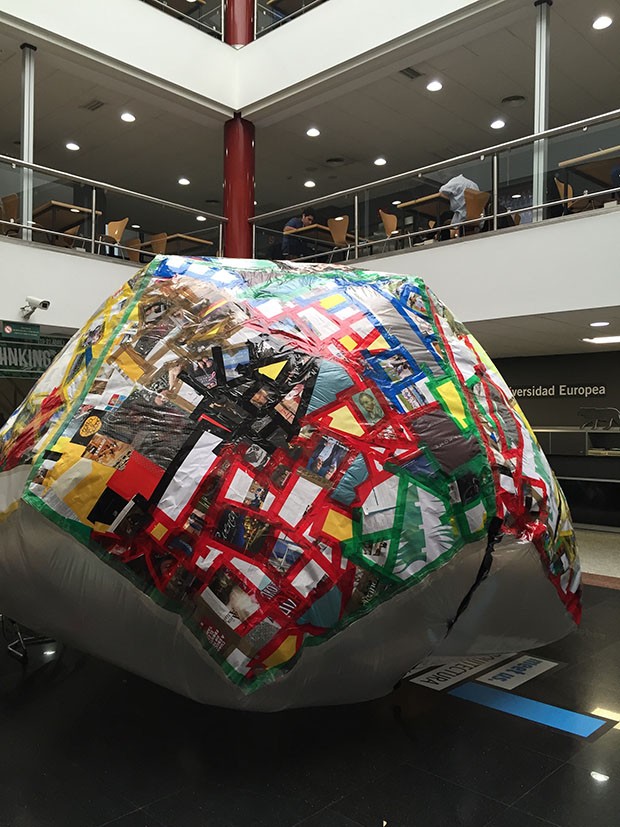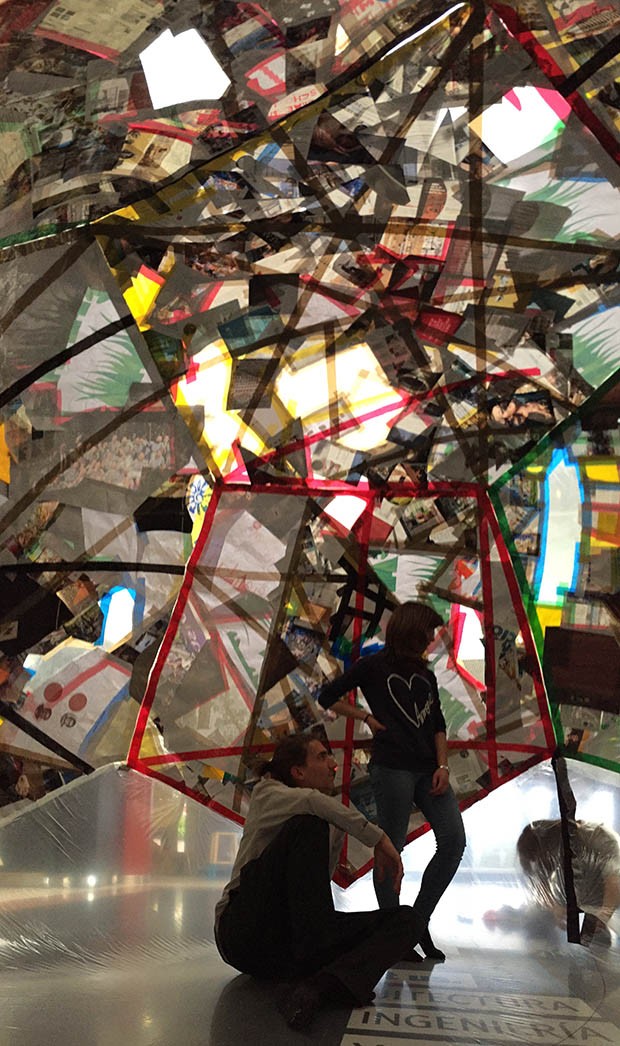 PnS Ambato
year: 2015 location:ambato, ecuador type: workshop size: 200 m2 university: universidad técnica de ambato team: antonio cobo, josé antonio flores (FDAA-UTA coordinator) and the students of the school of design, arts and architecture
Installation designed with occasion of the Third International Encounter of Design: Trends in Technology. FDAA-UTA.
The workshop Pneumatic Serendipity Ambato is -above all- a collaborative project where has been so important the participation and negotiation among students as the built model. The experience started with the analysis and reconsideration of an immaterial boundary condition: the cultural landscape of Ambato. The significance through color, variation and collage -very present in the configuration of the city- have been essential elements to establish the conceptual framework for the process.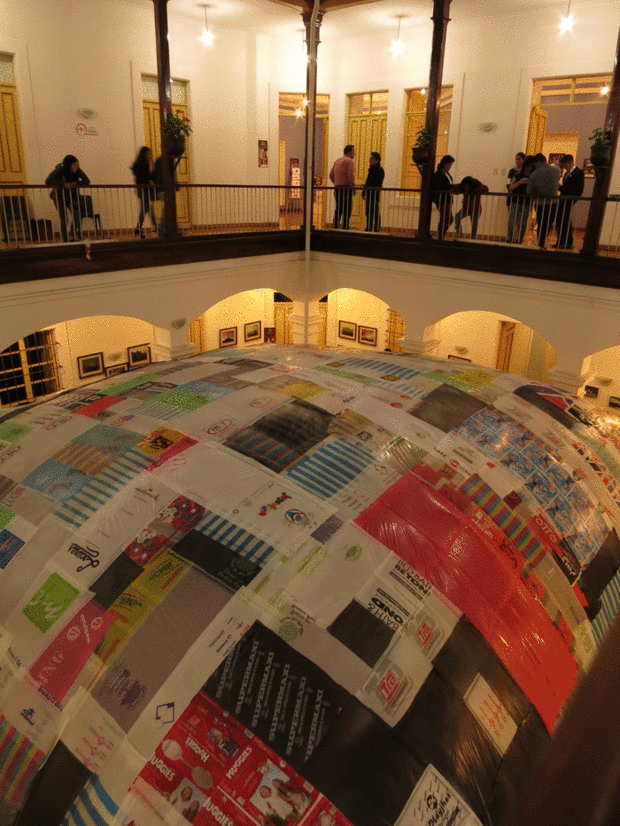 Camper & Gordillo
year: 2015 location: madrid, spain type: installation size: 108 m3 client: camper shoes project: antonio cobo print: luis gordillo construction and assembly: antonio cobo, pedro lópez laencina
Installation designed with occasion of ArCo2015 and the presentation of "Twins by Gordillo".
Instant Aarhus
year: 2013 location: fuglsø, denmark type: workshop size: 800 m2 university: aarhus university team: josé miguel de prada poole and antonio cobo (tutors), izabela wieczorek, rasmus grøbæk hansen, lars holt and kristian nielsen kjær (AAA tutors) and second and third-grade-sudents from the architectural school of aarhus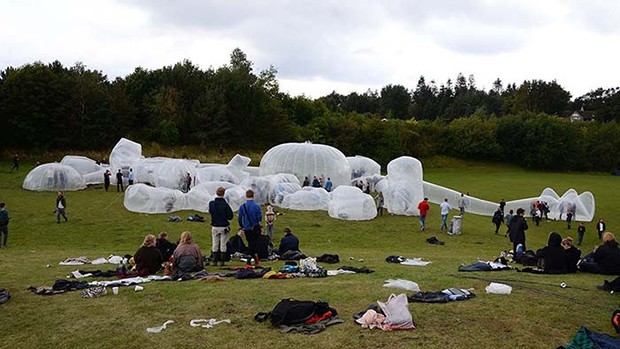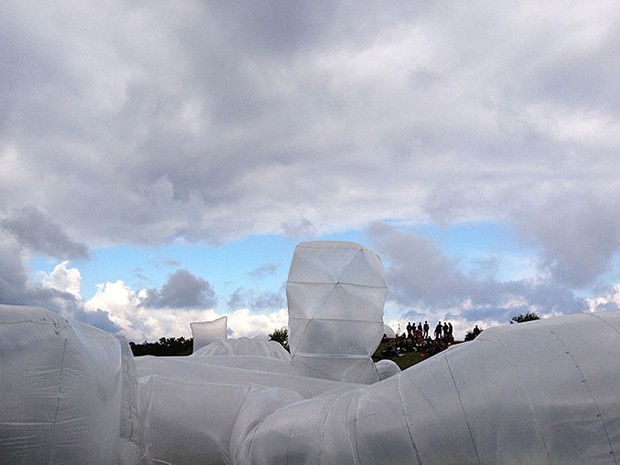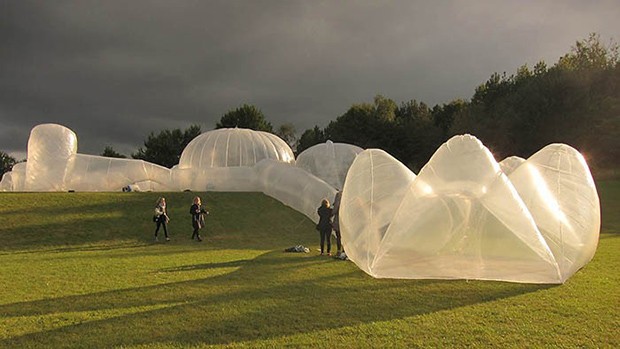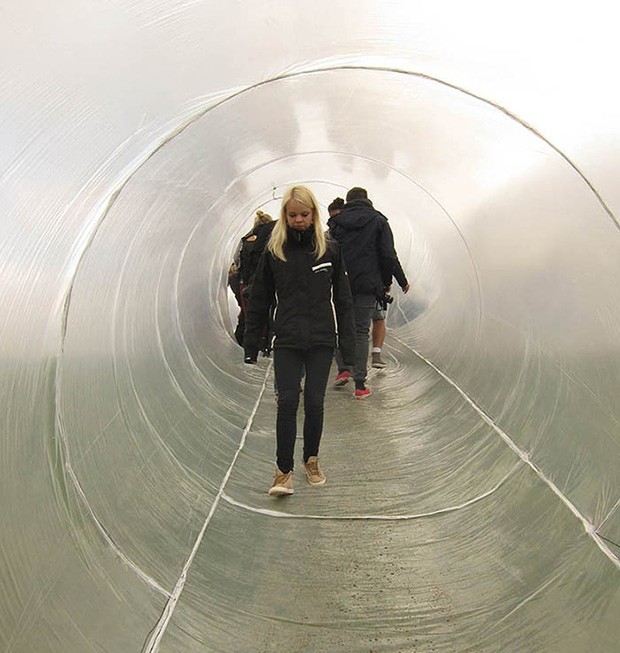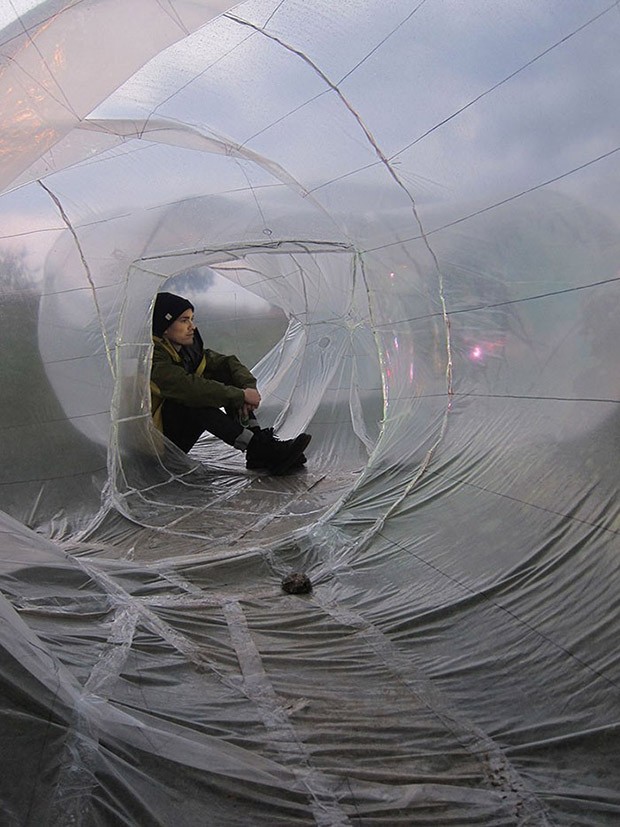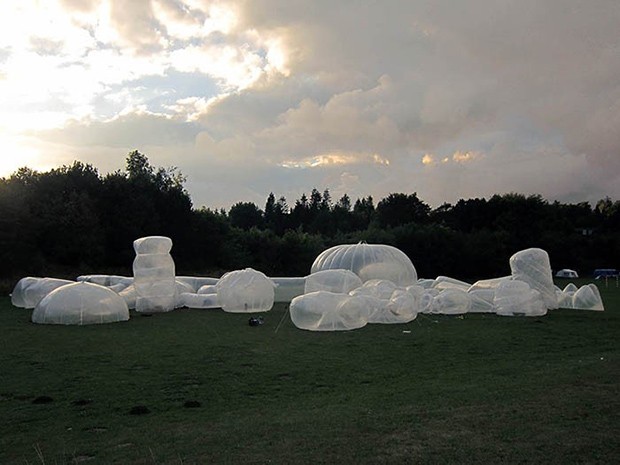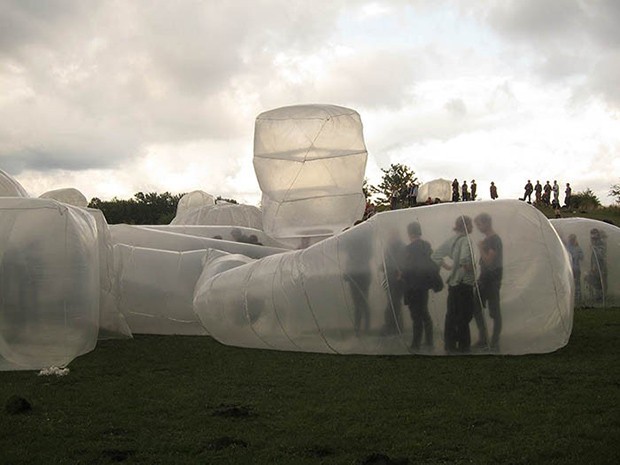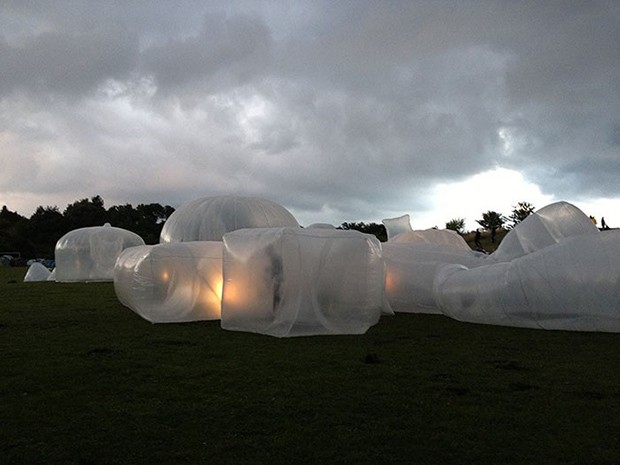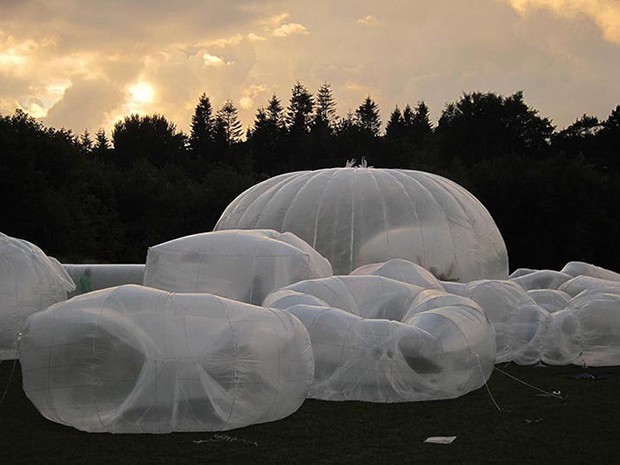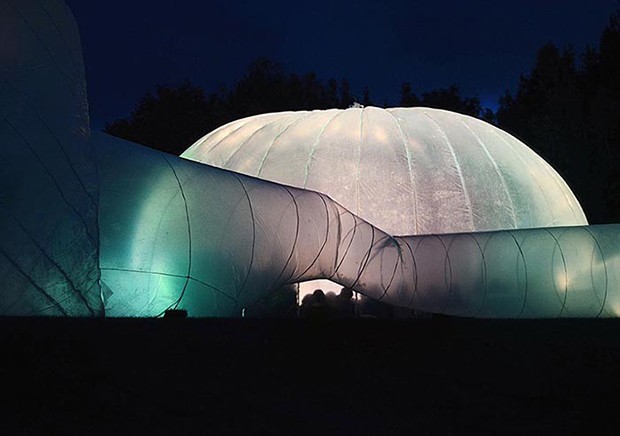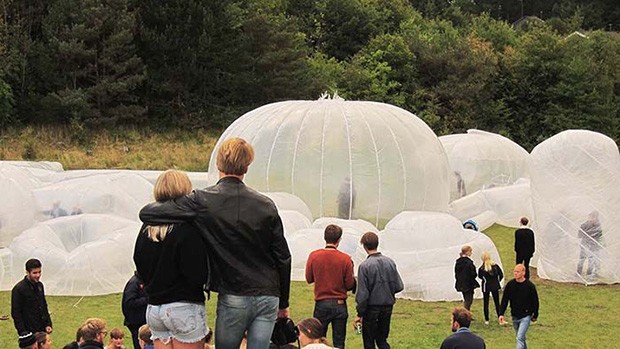 Entropic Cube
year: 2013 location: aarhus, denmark type: installation size: 2,8 m3 client: aarhus school of architecture team: antonio cobo, kristian nielsen kjær
Through a cube, a projector draws shadows on the wall. Shadows transformed with each exhalation. A link between the material and its projection -through time- results in an entropic process.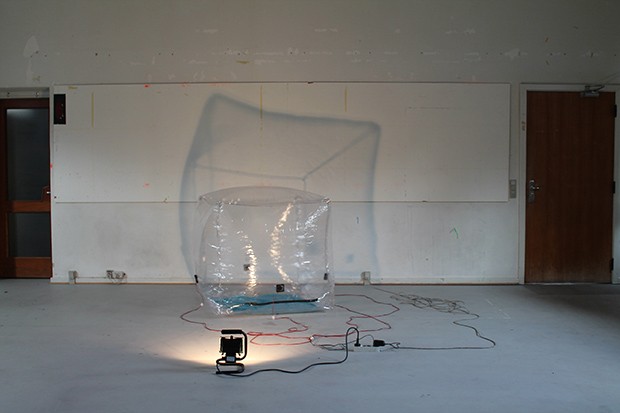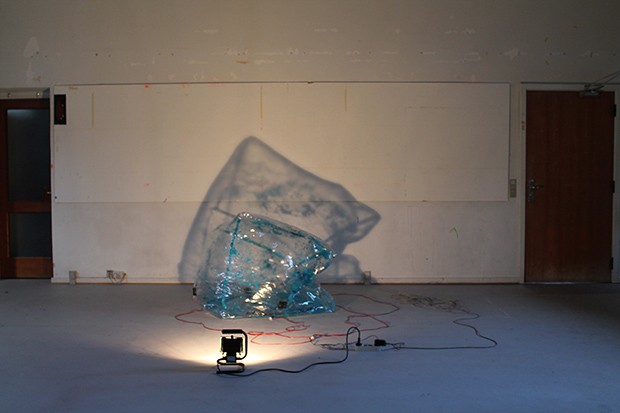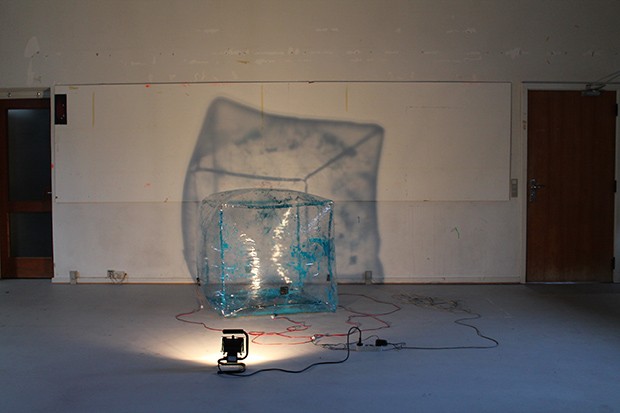 Arquitecturas de Emergencia
year: 2010-13 location: madrid type: seminar of the master proyectos arquitectónicos avanzados university: escuela técnica superior de arquitectura de madrid UPM tutors: josé miguel de prada poole, antonio cobo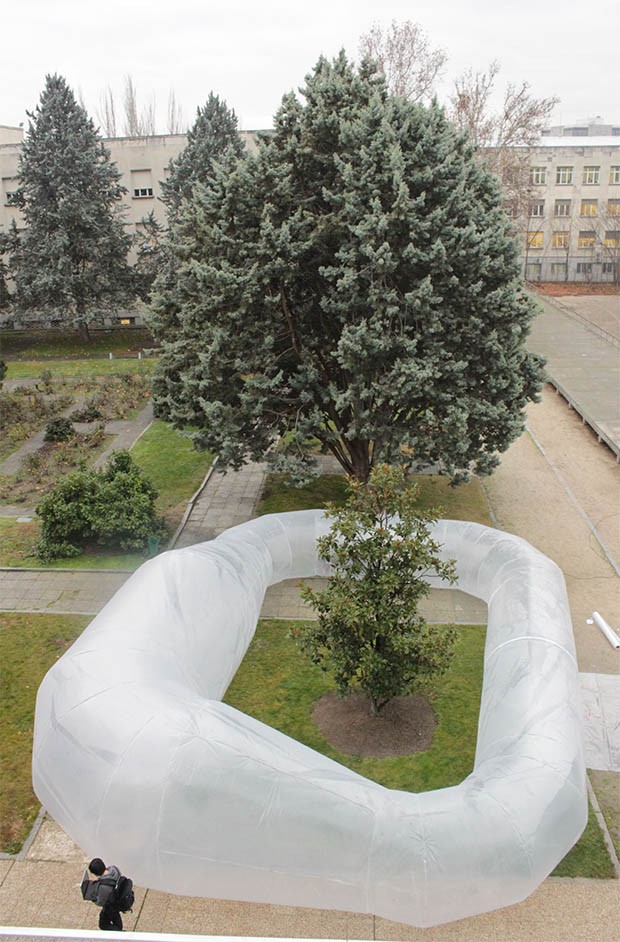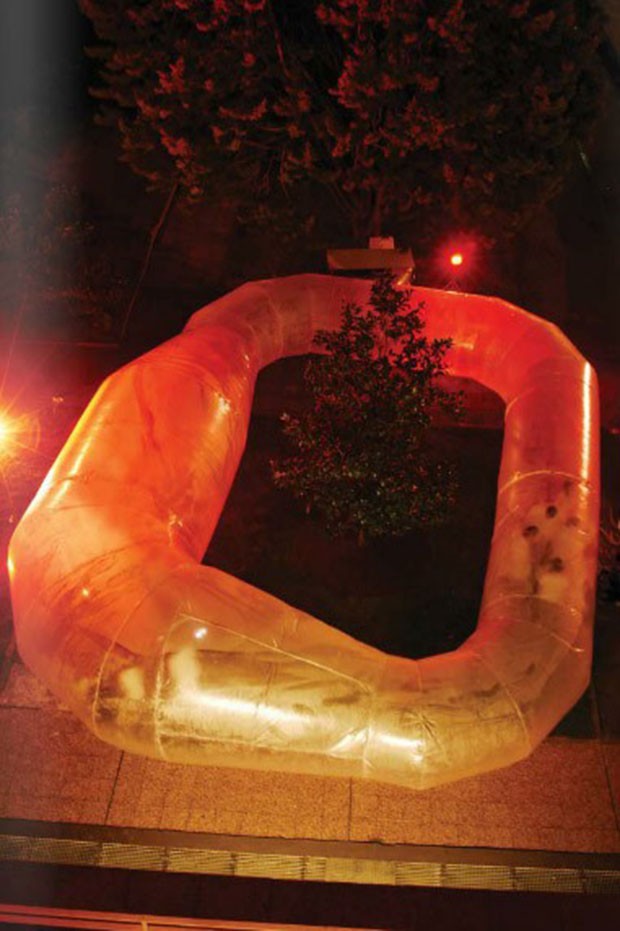 To rent
year: 2013 location: madrid, spain type: performance size: 3 m3 client: private team: antonio cobo, beatriz fernández
Narrative constructions for minimal spaces.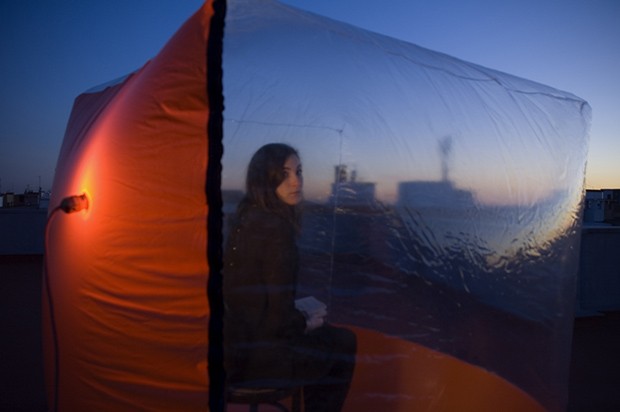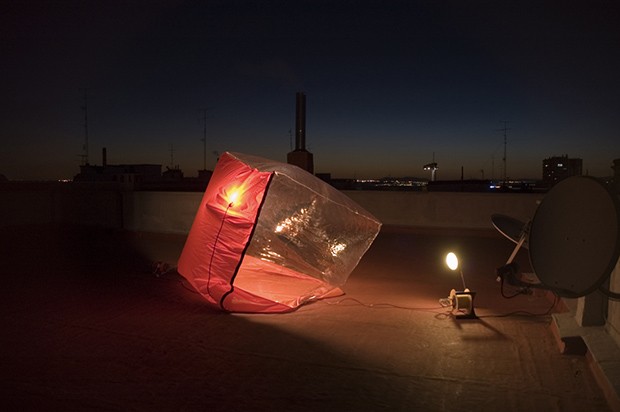 Atmotetrahedrom
year: 2012 location: madrid, spain type: performance size:0,1 m3 client: madrid fusión, gastrofestival 2012project: antonio cobo
"Atmósferas SensoPoéticas"
El término "Obra Total" fue acuñado Wagner para intentar definir aquella obra musical que incluía música, teatro, y artes escénicas y visuales, así como iluminación y demás elementos ambientales (incluyendo la disposición y calidad de los asientos) para que ninguno de estos aspectos estuviera subordinado, o fuera de más importancia que los demás, como ocurría en la mayoría de las óperas de su tiempo.
Posteriormente el mundo del arte empleó este término para distinguir de las "otras" a aquellas manifestaciones artísticas que recogían, en una obra, aspectos que se han atribuido tradicionalmente bien a la escultura, pintura, música, teatro, etc. Estas distinciones hace tiempo que han desaparecido. Hoy día la mayoría de los artistas prescinden de ellas por considerarlas fuera de lugar. Como si fueran un corsé o una barrera que reduce los límites de la imaginación.
Antonio Cobo, arquitecto por título pero arquitecto-artista-global por talante, con menos grandilocuencia y más próximo al intimismo y recogimiento bucólico que sus predecesores, nos quiere presentar hoy una obra que, sin necesidad de palabras, pero inhalando y exhalando, inspirando y expirando, implicando todos los sentidos y la acción personal del ¿espectador?, está más cercana a la metáfora poética que a ninguna de las habituales y clásicas manifestaciones.
La obra, de la que podremos disfrutar los participantes en el evento, es una obra efímera, evanescente. Apenas tendrá unos escasos minutos de existencia. Es una obra para el recuerdo. Pero una obra que, en el sentido más íntimo y personal, podríamos definir en este caso con propiedad como Obra Total, ya que desde el punto de vista individual concierne tanto a los sentidos corporales (tacto, olfato, oído, cinestesia y vista) como a nuestros recuerdos y experiencias pasadas.
La acción a la habremos de asistir implica simultánea y paradójicamente:
Acción y quietud
Construcción y destrucción
Sentimiento y reflexión
Realidad y fantasía
Sensación e imaginación
Existencia e inexistencia
… Y todo aquello a lo que nuestros recuerdos, adultos, adolescentes o infantiles nos arrastren.
¡Dejémonos arrastrar!
(Texto de José Miguel de Prada Poole)
Manrique
year: 2012 location: madrid, spain type: installation size:1,8m3 project: antonio cobo
Tribute to Dario Gazapo